One of the top use cases we've seen at Hopin have been virtual job and career fairs. In the beginning, we were surprised ourselves. But it makes a lot of sense because all of the important experiences you of a recruiting event, like speed interviews, exhibitor booths, training, culture fit tests, thought leadership keynotes — can be translated to an event on Hopin. Here are examples of brands and companies who've hosted successful recruiting events.  Any other ideas or suggestions? Add them to the comments below!
1. Help companies find talent with virtual job or recruitment fairs
When you invite students and job seekers to your company's virtual career or job fair, you attract top talent across the world. For example, PepsiCo Canada hosted the PepsiCo Sales Virtual Career Fair on Hopin.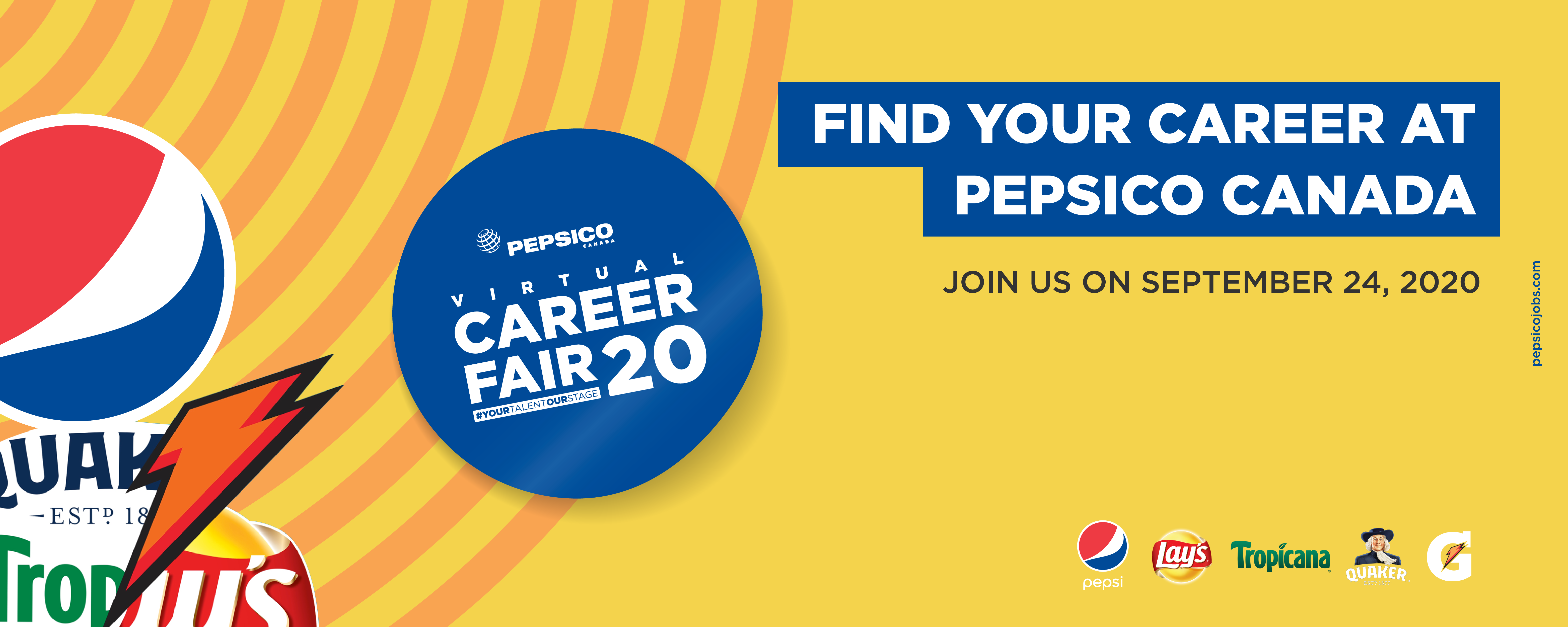 The event organizers recommended the following journey through their virtual event like this:
Attend a session on a subject that is important to you
Enjoy the break between different sessions to visit some of our booths 
Network with some current PepsiCo employees to discuss what may be the ideal career opportunities for you
End your day by applying to your ideal role at PepsiCo.
They gave attendees an inside look at PepsiCo by hosting educational sessions on the PepsiCo culture, career development opportunities, and what a day in the life at PepsiCo is like.
Using Hopin's networking feature, attendees could also network 1:1 with current PepsiCo employees to find out more about specific roles and opportunities.
2. Forge relationships with networking events
Give recruiters and hiring managers the opportunity to meet 1:1 with job candidates at a virtual networking event. McMaster University partnered with EY, an international accounting firm, to create a networking event on Hopin for CPA students looking to work at EY.
Students could virtually engage with both EY recruiters and staff of all levels to learn about the EY culture, build relationships with EY employees, and ask questions.
3. Educate job searchers with recruiter panels
Many job seekers and professionals want to learn how to stand out in a crowded job market and grab the attention of recruiters and companies. To help them learn these valuable skills, Toronto Jobs, a company that helps people find jobs in the Greater Toronto Area, created a virtual event — the Canadian Virtual Recruiters Panel. They asked five recruiting experts to be panelists at the one-hour event. During the panel, job seekers could ask the recruiters live questions about their personal job search. Toronto Jobs monetized the event by charging for tickets and sponsorships.
They created four different ticket types:
$5 tickets for general admission for job seekers.
$10 tickets for general admission for recruiters.
$95 tickets to allow exhibitors to create a promotional video for the event to be displayed in the expo area.
$295 tickets to sponsor the event. This ticket gave sponsors exposure by showing off their logo on marketing materials, in the event reception area, and on the registration page.
5. Flip the tables with reverse job pitches
Take a creative approach to recruitment by hosting a reverse job pitch. A reverse job pitch flips the recruiting experience. Instead of job seekers pitching a company, the company pitches job seekers to explain why they should work for them.
Wüstenrot Gruppe, an Austrian company for financial services and real-estate, hosted a virtual reverse job pitch on Hopin for IT professionals. During the event, they pitched job seekers by explaining what Wüstenrot Gruppe could do for employees. Then, they allowed job seekers to join live and pitch themselves, too.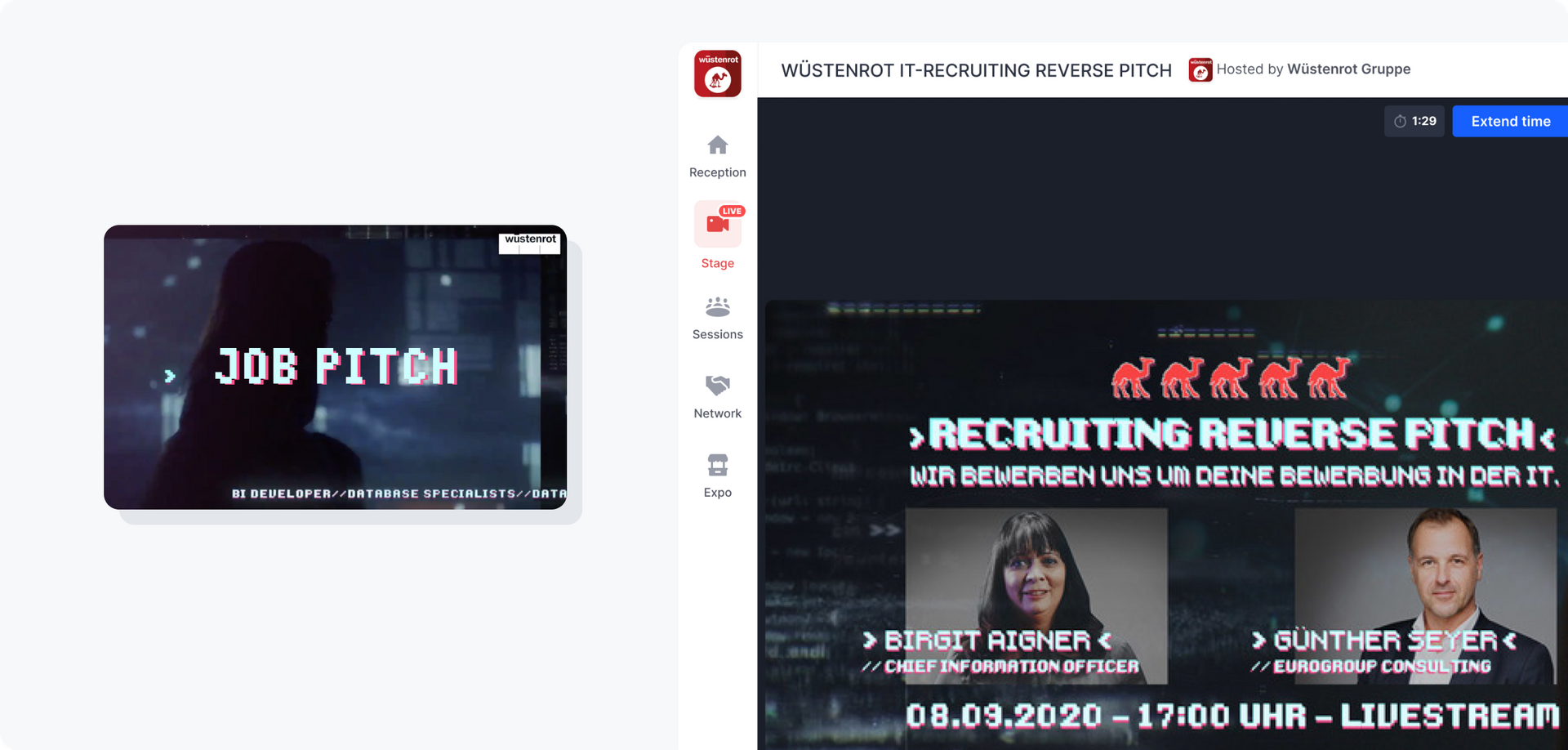 6. Educate recruiters with virtual conferences
Provide educational opportunities for recruiters and talent acquisition experts by hosting a virtual conference for them, like the 2020 Canadian Virtual Recruiters Conference. The two-hour event included educational sessions about shifting to digital interviewing, hiring remote workers, effective reference checks, and more.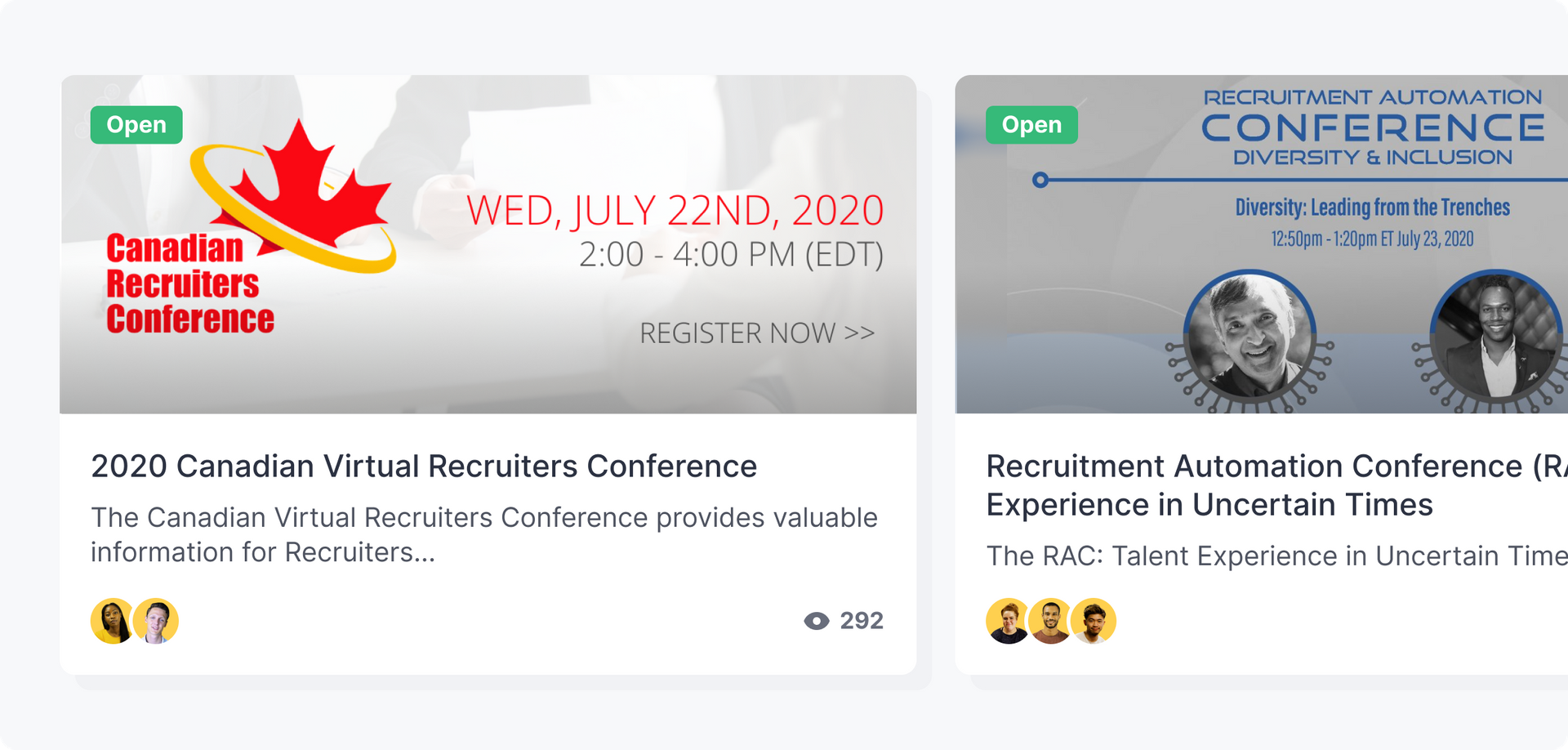 Talent Acquisition executives, technology leaders, and some of the most influential voices in recruiting discussed the future of writing resumes, Attendees will also hear how innovative technology solutions are changing the landscape of hiring and creating a great hiring experience at scale.
 
7. Host online events to educate and build community among recruiters.
URx, a community of recruiting and development professionals of early career talent, hosted URx Forward, a two-day live online event to bring the recruiting community together for a unique mix of workshops, educational sessions, networking, working sessions, panels, and even yoga.
The organizers used the Sessions feature in Hopin to host group networking for event attendees. With the Sessions feature, up to 20 people can be on video at once to interact. Up to 10 networking rooms were available at once for attendees.
The event brought together renowned recruiting professionals to speak about recruiting and diversity, including:
Richard Cho, Head of Recruiting at Robinhood
Roz Francuz-Harris, Director of Talent Acquisition at HBO Max
Colleen Grant, Manager of Global Campus Recruiting at HubSpot
Layne Austin, MBA Recruiting at Salesforce
Carlotta Yun, Program Manager of University Recruiting at Adobe
Brittni Lundie, Diversity & Inclusion Program Manager at Uber
8. Bring professionals together for an invite-only virtual event.
HackerX, the world's largest invite-only networking and recruiting event for developers, moved its recruiting events online with Hopin. Every year, the organization hosts over 300 recruiting events in more than 150 cities around the world, connecting talent to some of the world's leading technology companies, including Uber, Apple, Salesforce, Tesla, and more.
HackerX chose Hopin for its ability to connect people one-on-one with networking. "It enabled us to more closely replicate our physical events online and matched attendees to network and meet."
The event connected more people than their typical in-person events. Dozens of companies engaged in face-to-face, rapid-interviews, resulting in higher turn out rates and more connections made.
9. Allow companies to present live to job seekers with virtual booths.
The VSW2020 Recruitment Fair at Vancouver Startup Week 2020 used Booths in Hopin to connect companies with job seekers.
Each company has their own booth and times during which they are live and able to present on video to job speakers and speak to them directly.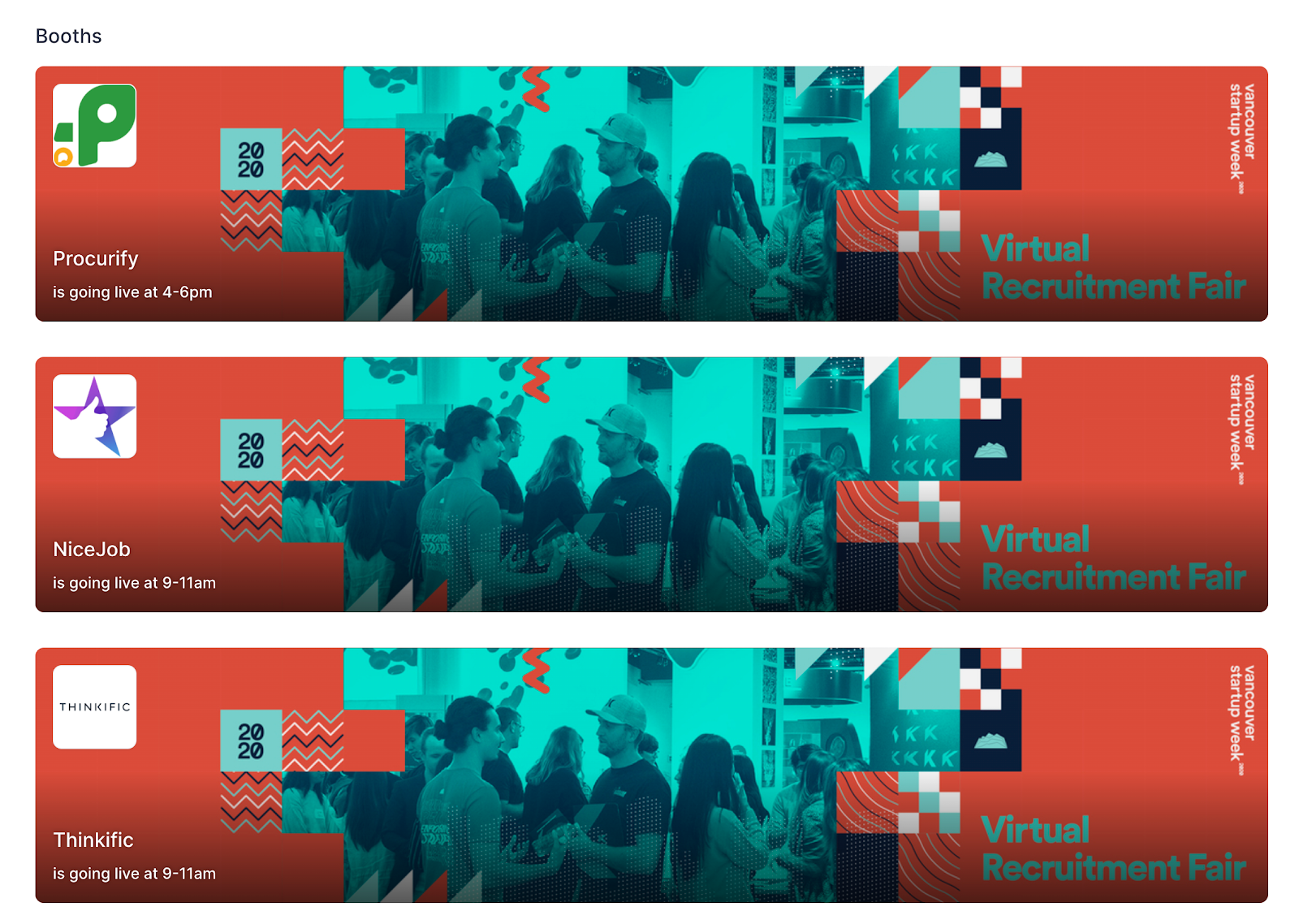 On top of that, the VSW2020 Recruitment Fair used the Stage feature to host an "at-home party" with a live DJ for all virtual attendees. The party helped raise funds for VGH & UBC Hospital Foundation's Most Urgent Needs Fund.
10. Create career and recruiting events for exclusive members.
Bright Network connects their 350,000+ members — who include current students at universities, those about to start a degree, and recent graduates — with top employers. They hosted their three-day virtual internship experience on Hopin with over 75,000 live attendees.
On each experience, participants get an introduction to the sector of their internship, learn sector-focused skills at workshops delivered by leading employees, network with other internship experience participants, and more.
Takeaway: Host your next recruiting event
Here's how you can use Hopin for your own recruiting needs. 
Create a virtual event and invite clients and teams who are trying to find talent.
Set up booths for each client. Then, invite job seekers to attend and meet with each company.
Host networking sessions between job seekers and companies. Don't forget to configure the ticket matching so that job seekers only meet employees and vice versa in the Networking area (unless you'd like everyone to meet everyone). 
Using Hopin's Stage, allow companies to speak about their culture, workplace, and available jobs.
Tip: Want to hide the list of attendees? Go to Advanced Settings in your event dashboard and select "None" from the "Show event attendees" dropdown menu.
You can charge companies and job seekers to attend or offer the event for free as a perk of working with your recruiting company. 
--
Related: 
I just finished a 3 day remote internship and here are 3 things I learned